entertain yourself here at The Mill
The Boutonne is a superb First Category fishing river. Its waters are stocked with trout and also hold a range of coarse species. Fishing licences (Carte de Pêche) can be purchased from local fishing tackle shops and newsagents.
We have kayaks and a small row boat available for you to explore this wonderful river.
Enjoy the tranquil grounds of the Mill property and its array of wildlife, including magnificent white barn owls, woodpeckers and red squirrels, to name just a few. Relax and have a picnic on the picturesque river bank, or bring your easel if you like to sketch and paint as the colours, light and scenery are splendid.
Explore the surrounding area by walking, hiking or cycling. If you are looking for short bike rides or something more challenging, you will certainly find scenic routes to enjoy in the surrounding area. We also have bikes available for your use.
Dampierre-sur-Boutonne
(3 minute drive from our Mill)
The historical 16th century Château de Dampierre-sur-Boutonne, with its moat and beautiful gardens, is only a 3 min drive or a scenic bicycle ride away. It is a must visit for anyone who stays. In 2012 the Château won an award for its wonderful restoration.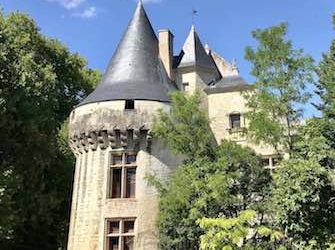 Aulnay
(10 minute drive)
Aulnay has a great market on Sunday mornings with some of the best fresh produce, fish, seafood and flowers in the area.
St Jean d'Angely
(20 minute drive)
This is a lovely town with rich heritage, a royal abbey, abbey towers and a historic clock tower. Enjoy al fresco meals, coffee, wine or a refreshing drink while watching the day go by in the town square alongside the Fountain of the Pilori.
Fishing, canoeing, pedal-boating, cycling and walking trails are some of the activities enjoyed in St Jean d'Angely along the Boutonne River.
There is an indoor/outdoor market on Wednesday and Saturday mornings in the Market Square with fresh regional produce.
La Venis Verte
(45 minute drive)
Here you will find the enchanting wet marshes of The Green Venice. Renowned by artists who came for the light and variety in the many shades of green, the landscape is criss-crossed by a system of canals that are covered with green duckweed and the banks are lined with willows and poplar trees.
The marshlands are home to a variety of rare and unique flora and fauna. Flat bottom boats are available for hire all along the canals and this makes for a great way to take in the scenery. Alternatively, you can take a walk along the many paths.
Discover some beautiful and historic places on a day trip.
La Rochelle
(55 minute drive)
La Rochelle is one of France's loveliest coastal cities. It has a historic port, magnificently preserved with a quayside displaying many lovely boats, and a seafront bustling with cafes, restaurants, bars and market stalls. The old town is flanked by 17th and 18th century buildings that now house a variety of shops selling ranges of fashion-wear, homewares, pastries, bread, ice-cream and delicacies. La Rochelle is a definite for the 'places to see' list.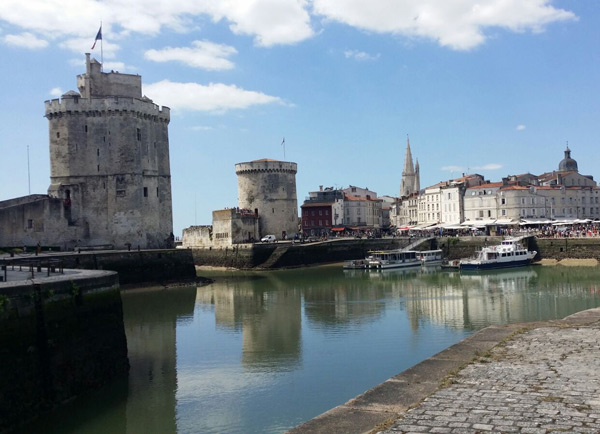 Île de Ré
(1hr 15min from our Mill and 35min from La Rochelle)
The island of Île de Ré is a 30km long flat strip of land, small enough to cycle around and is said to be the best way to see it. It is linked to the mainland by a 3km toll bridge but don't let that stop you visiting the picturesque villages, sandy beaches, old ports, restaurants and markets. There is a lot to see and do on this photogenic island.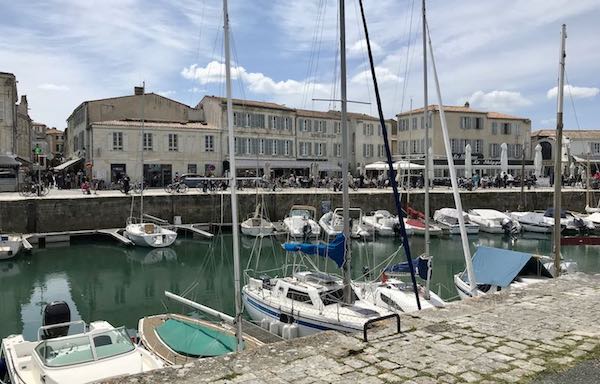 Île d' Oléron
(1 hour 40 min drive)
France's second largest island after Corsica, Île d' Oléron is also joined to the mainland by a bridge (toll-free). In the south of the island is the main town of Le Cháteau, home to a huge 17th century waterfront fortress 'La Citadelle'.  The town is renowned for its oyster farming and there is a colourful market every morning in Place de la République, as well as plenty of restaurants to enjoy.  It's a great place for a day out with many cycling paths, sandy beaches and an aqua park in the village of Dolus d'Oléron in the centre of the island.
Saintes
(43 min drive south)
The town of Saintes was established by the Romans. Today it is a pretty market town with wonderful architecture, Roman ruins (the 19AD L'Arc of Germanicus), Romanesque churches and the 40AD Roman amphitheatre Les Arénas. There are many market days in different parts of the town selling fantastic local produce, fresh fish, seafood and much more. Well worth a visit.
Cognac
(54 min drive south)
Another must-visit is the famous town of Cognac, renowned for the grape-based spirit which has been made there for over 300 years. The old town is a mix of medieval timber houses once occupied by the workers and the grand mansions of the wealthy merchants.  Take a Cognac tour, cruise along the Charente on a 'gabare', the traditional flat-bottomed oak boats that were once used to transport cognac, salt and other produce, or simply explore the history of this famous old town. There are routes created by the Tourist Office to help you with the history.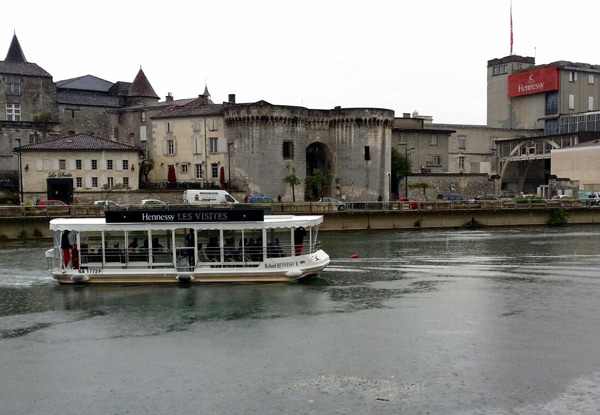 Rochefort
(50 min drive south-west)
This historic naval town on the River Charente was a quiet fishing village until 1666 when Louis XIV ordered the building of a royal dockyard and arsenal. Today it is a fascinating grand town with wide boulevards and maritime heritage attractions such as the Corderie Royale (Royal Rope Factory), Hermione Boatyard and Maritime Museum. Of course, as you would expect in a lovely French town, there are cafés, restaurants and good shopping to be had.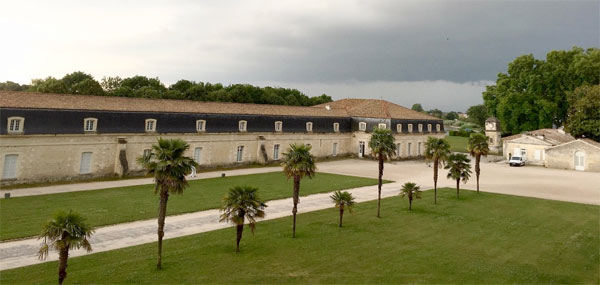 Bordeaux
(just under a 2 hour drive south)
A bit further away, and needing no introduction, is the famous wine area of Bordeaux.  Visit the very grand and beautiful city or simply seek out some fine vineyards for a spot of wine tasting.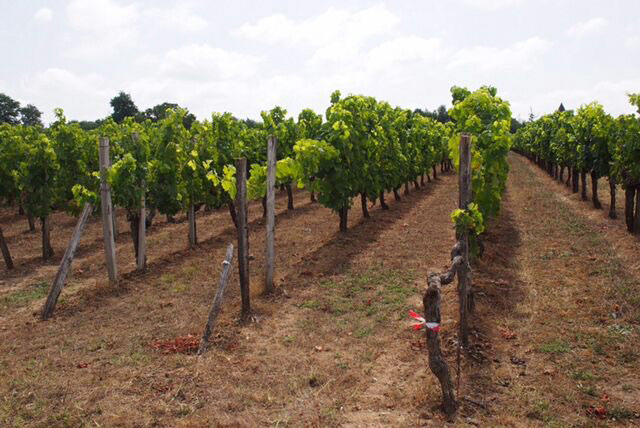 Upcoming local events for you to enjoy.
LE TOUR DE FRANCE 2020 is coming to the Charente-Maritime
Rest Day     Monday 6 July
STAGE 10   Tuesday 7 July
STAGE 11   Wednesday 8 July
Many routes on these two stages are within a comfortable distance from Moulin de la Fosse, including the beautiful coastal city of La Rochelle, the scenic islands of Île de Ré and Île d'Oleron, the historic town of Rochefort and the tranquil Marais Poitevin (the Green Venice) to name just a few.
https://www.letour.fr/en/overall-route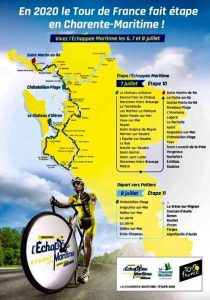 Brocante markets: www.info-brocantes.com/reg-poitou-charentes.html

Festival Cognac Blues Passions:  https://www.bluespassions.com

Angouléme annual classic car rally (1 hour 15 minute drive): www.circuit-des-remparts.com